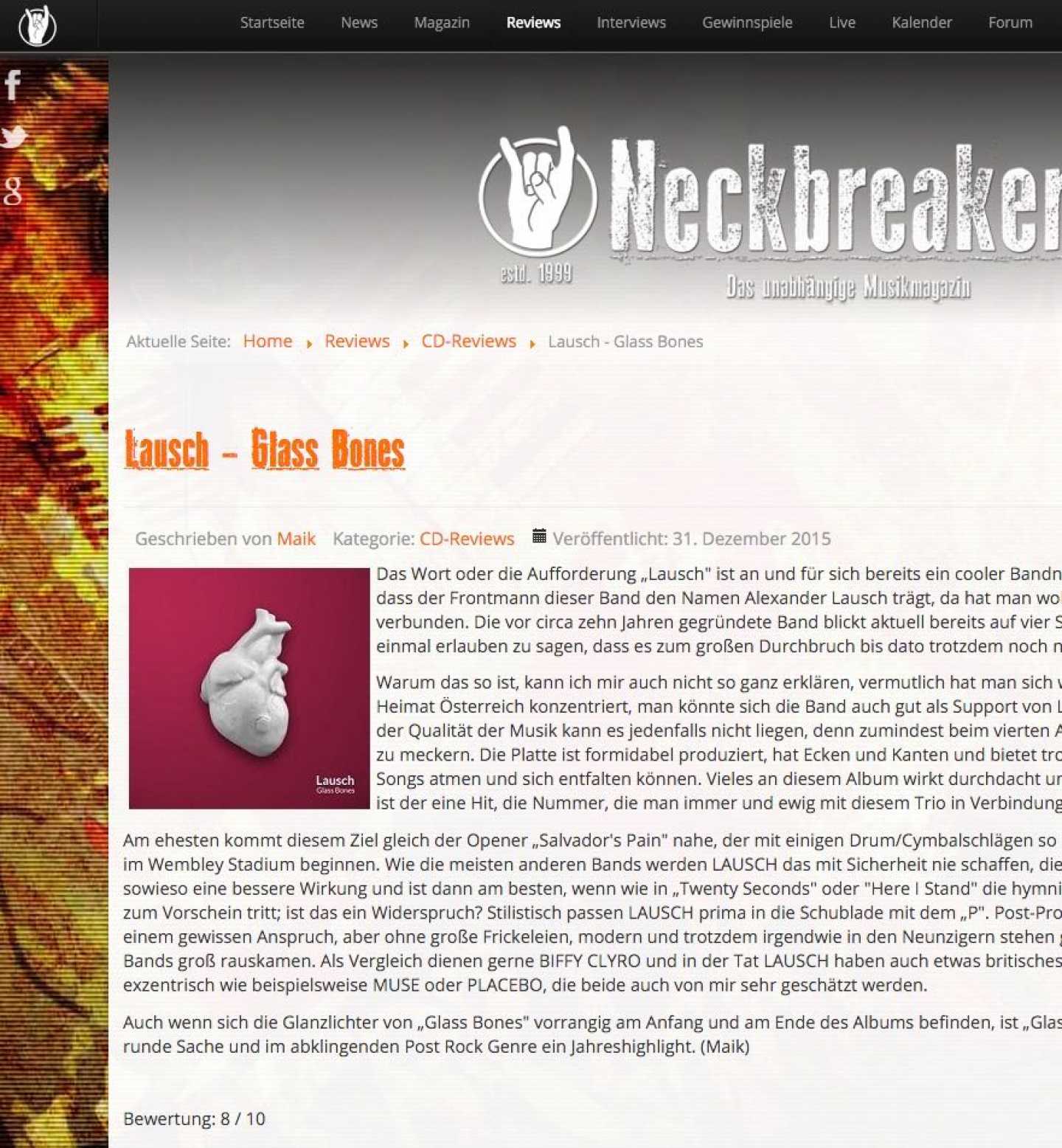 [su_spacer size="0″]
neckbreaker.de | 8 of 10 (link)
Musik mit einem gewissen Anspruch, aber ohne große Frickeleien, modern und trotzdem irgendwie in den Neunzigern stehen geblieben, als einige Alternative Rock Bands groß rauskamen. Auch wenn sich die Glanzlichter von "Glass Bones" vorrangig am Anfang und am Ende des Albums befinden, ist "Glass Bones" in seiner Gesamtheit eine runde Sache und im abklingenden Post Rock Genre ein Jahreshighlight.
soundkartell.de | 5 of 5 (link)
"Emotionsgeladene und rasant wechselnde Gitarrenmelodien. Hier wird schon schön deutlich wie gut sie den Bogen zwischen etwas ruhigeren Passagen und fulminant krachenden Stellen spannen."
metalundergound.at | 4,5 of 5 (link)
"Fazit: Zwischen Alternative Rock, kleineren Post-Rock Einlagen und dem Konzept sehr rauer Soundfragmente, wie auch dem einfädeln idyllisch-ruhender Attitüden haben die Jungs hier ein Wahnsinnsalbum geschaffen."
laut.de | 4,5 of 5 (link)
"Glass Bones" kommt auf den Punkt – in Sachen Songwriting, Instrumentierung, Songlänge und auch Albumumfang. Neun Songs, auf den Punkt und auf die Zwölf. Zwischen tonnenschweren Hooks und sonnig-heiseren Refrains, zwischen klanglicher Dichte und Reduktion. Ziemlich grandiose Sache.